Please watch the video below from Dr. Karen Becker!
This page outlines what we feed and supplement with our frenchies, as well as suggestions for diet and nutrition after your new puppy comes home with you.
---
Our Puppies and Adults are ALL fed by the "free feed" method, food is available 24/7 for them as well as fresh water.
---
IN THE KENNEL:
Breeding males and females are fed Natures Domain Grain Free Salmon and Sweet Potato Kibble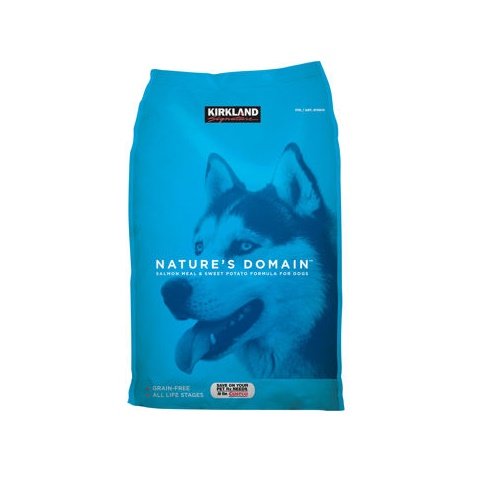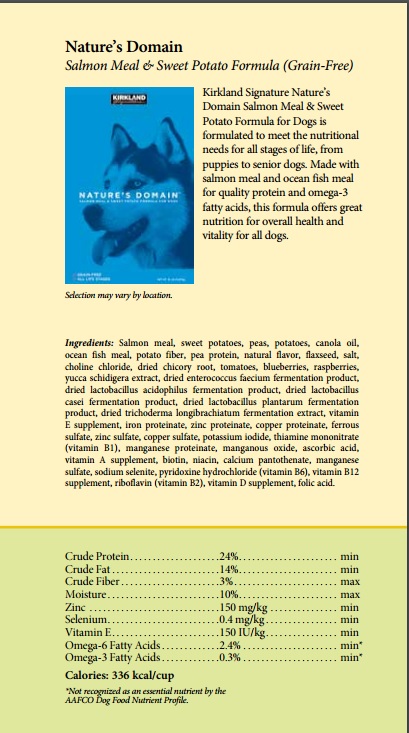 Every fresh bag of kibble is mixed and coated with 3 supplements:
---
Dog Bloom
~ The highest level vitamin-mineral supplement for dogs especially formulated for high stress conditions. Nothing like it anywhere!
---
Nutritional Grade Powdered Brewers Yeast
~ This is given specifically to reduce the pups we can have born with hair lips and cleft palates. Research on cleft palates in brachycephalic breeds of dogs supports the use of folic acid supplementation in the pregnant bitch as a means of decreasing the incidence of cleft palate by as much as 48-76%.
Here is an example study:
http://clone-espana.es/dfiles//documents/ACIDO_FOLICO_EN_BRAQUICEFALICOS.pdf
Where to Order:
---
Coconut Oil Powder
~ Just a partial list of it's qualities, for more detailed info about Coconut Oil, please go to our page:

We purchase our powdered Coconut oil in the 2.2 kilo "brick" form, under the brand name Powerstance. It is an Equine formula. PowerStance is a unique powdered coconut oil supplement. Since coconut oil can solidify below 24-25°C, PowerStance was developed to provide the essential benefits of coconut oil in a convenient powder form.

About Powerstance:
Saturated oil. Coconut oil is saturated, ie it is not prone to rancidity
Coconut oil has useful nutritional and antimicrobial benefits
Increased muscle glycogen storage - Saturated fats such as those found in coconut oil are more effective at enhancing muscle glycogen storage than the unsaturated fats found in other vegetable oils (eg. canola, corn and soya oil).
Anti-viral and anti-bacterial protection - for gut health and well being from Lauric and caprylic acid
Ready energy - coconut oil contains MCTs (medium chain triglycerides) which are easier to digest, absorb and convert to muscle energy than the long-chain fatty acids found in other vegetable oils. MCT's are absorbed directly into the portal blood and transported to the liver, whereas polyunsaturated oils are transported via the lymphatics.
Long shelf life – unlike other vegetable oils, coconut oil is highly saturated and therefore more resistant to rancidity.
Power Stance is an odourless white powder making it easy to mix into feeds
We order from:
Countryside Organics


http://www.newcountryorganics.com/shop/animal-health/powerstance-5-lb.html

Call: 888-699-7088
kevin@countrysideorganics.com


---
---
IN THE NURSERY:
Our French Bulldog and FrenchBo Moms and Puppies are also "Free" Fed the Natures Domain Grain Free Salmon and Sweet Potato Kibble.(it is suitable for all life stages)
Every fresh bag of kibble is mixed and coated with 3 supplements outlined above, WITH the addition of Cocci Guard.
---
Moms and Puppies are also fed a soft mash twice a day that is comprised of canned puppy chow, soaked kibble and all species milk powder.
---
YOUR PUPPY IS NOT YET A DOG!
In its first year of life a puppy increases its body weight by 40 to 50 times. It therefore needs twice as much energy as an adult dog to satisfy this intensive metabolic activity. Optimal calcium levels are critical, since both deficiency and excess can have adverse effects, for skeletal development, which is not completed before the age of 12 months. This crucial growth stage of puppies generally ends at about twelve months, French Bulldogs are mature at about 18 months and should be nutritionally treated as a puppy until about 1.5 years of age.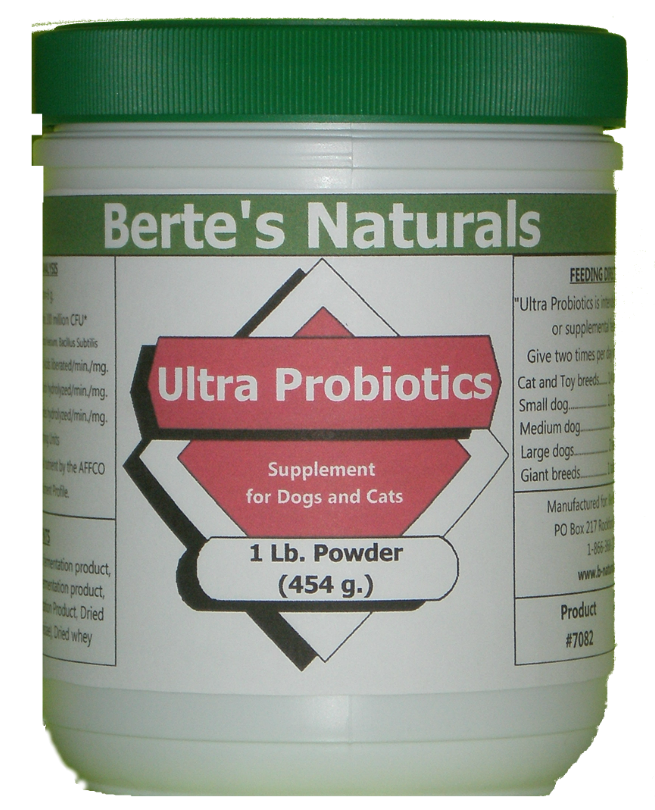 Name: Berte's Ultra Probiotic Powder Digestion Aid (1 lb) for Cats and Dogs
Berte's Ultra Probiotic Powder contains enzymes and digestive aids for dogs that recovering from intestinal stress, or prone to
torsion or bloat. Probiotics replace the friendly flora and fauna in the digestive system needed for proper digestion and to discourage yeast overgrowths in the ears and skin.

GUARANTEED ANALYSIS
Contains a source of live (viable), naturally occurring microorganisms.
Per 1 tablespoon=9 g.
Total Lactic Acid Bacteria (min)100 million CFU*/gram
(Lactobacillus acidophilus, Aspergillus niger, Enterococcus faecium, Lactobacillus lactis, Lactobacillus casei, Enterococcus diacetylactis, Pediococcus acidilacticii, Bifidobacterium bifidum, Propionic Bacteria, Bacillus coagulans, Aspergillus oryzae, Bacillus licheniformis)
Protease**(Porcine Pancreas)...................110 mg amino acids hydrolyzed/min/gram
Alpha-Amylase**(Porcine Pancreas)…..............110 mg starch hydrolyzed/min/gram
Lipase**(Porcine Pancreas).........................8.8 mg triglycerides hydrolyzed/min/gram
*CFU=Colony Forming Units
**Not recognized as an essential ingredient by the AAFCO Dog & Cat Food Nutrition Profile

Ingredients-
Dried Yeast (Saccharomyces cerevisiae), Dried Whey, Dried Porcine PancreaticTissue, Dried Lactobacillus acidophilus Fermantation Product, Dried Enterococcus Fermentation Product, Dried Lactobacillus casei Fermentation Product, Dried Pediococcus acidilacticii Fermentation Product, Dried Propionic bacteria Fermentation Product, Dried Aspergillus oryzae Fermentation Product, Dried Aspergillus niger Fermentation Extract, Dried Lactobacillus lactis Fermentation Product, Dried Enterococcus diacetylactis Fermentation Product, Dried Bifidobacterium bifidum Fermentation Product, Dried Bacillus coagulans Fermentation Product, dried Bacillus licheniformis Fermentation Product.


FEEDING DIRECTIONS
"Ultra Probiotics is intended for intermittent
or supplemental feeding only"

Cat and Toy breeds..... 1/4 teaspoon per meal
Small dog.................... 1/2 teaspoon per meal
Medium dog................... 1 teaspoon per meal
Large dogs................... 2 teaspoons per meal
Giant breeds.................. 1 tablespoon per meal
9 gm. = 1 Level Tablespoon
DIGESTIVE SUPPORT:
After weaning, the puppy's digestive system is not yet fully developed. It therefore has a reduced digestive capacity, making it more delicate than an adult dog. This is especially true in situations of stress (when the puppy is seperated from this mother and littermates to go to his new home) or if it is confronted with parasitic infestations, as is often the case at that age.

CHANGING FOOD SOURCES:
Your new puppy should be fed the same type or brand of food it received from the breeder where you bought the puppy. It is important not to change the puppy's diet during the first three to four months in order to avoid digestive problems and diarrhea. If it is necessary to change your Bulldog puppy's diet for any reason, wait a least 2 weeks after your puppy's arrival in his new home and change gradually over a period of several days, adding little of the new food at the time to the food he is accustomed to. If you change from dry food to home-prepared food the change should go slowlier than if you just change from one brand of dry food to another.

Here are some resources in choosing a food for your frenchie or frenchbo puppy after you bring him home: http://www.dogfoodadvisor.com/best-dog-foods/raw-dog-food/ http://www.doggiefood.com/ http://www.dogfoodadvisor.com/best-dog-foods/best-grain-free-dog-foods/best-grain-free-dog-foods-dry/
---